These mushrooms skewers are simple and delicious. You won't miss having meat in your plate. Make them with grilled potatoes and you have another dinner on your dinner list!
Ready in: 20 min
Serving: 2
Ingredients:
8 oz baby portobello
5 sweet mini bell peppers (mix of orange, red, yellow)
½ medium sweet onion, cut into wedges
salt
black ground pepper
½ tsp lime juice
2 small garlic cloves, minced
vegetable oil
5 skewers
Steps:
Soak wooden skewers in cold water. If you're using metal skewers, skip this part.
Preheat a grill.
Meanwhile, clean and halve mushrooms if too big.
Clean and cut sweet mini bell peppers lengthwise.
Put mushrooms, bell peppers, and onions on a plate or in a bowl.
Add lime juice, 1 Tbsp oil, and mix together.
Sprinkle with pepper and salt.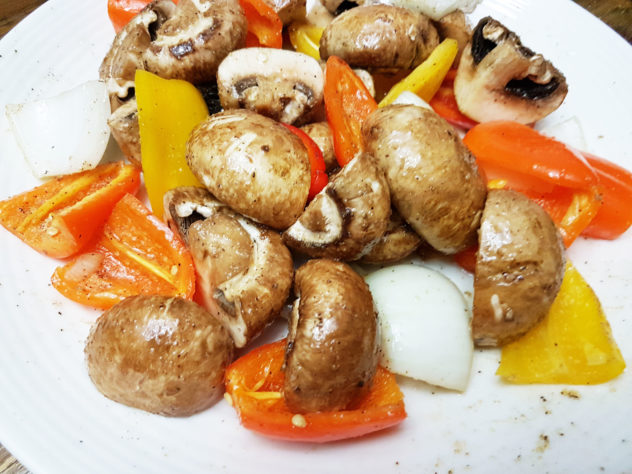 Thread mushroom, bell peppers, and onions onto the skewers following any pattern you like.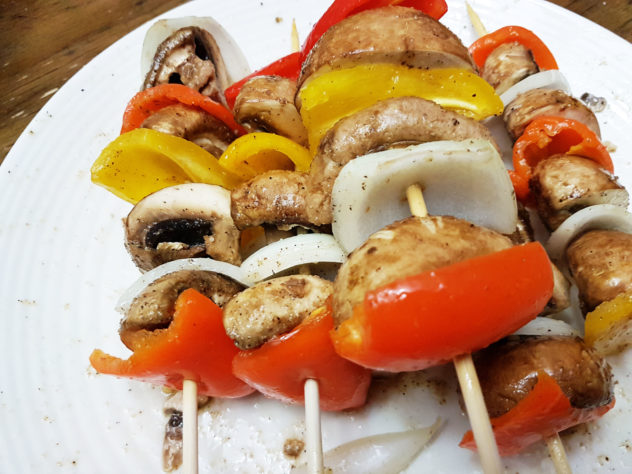 Once hot, brush grill grates with vegetable oil.
Place mushrooms on the hot grill.
Grill covered 5 min on each side.
Serve the mushrooms skewers hot with grilled or roasted potatoes for a complete healthy meatless dinner.
Bon appetit!